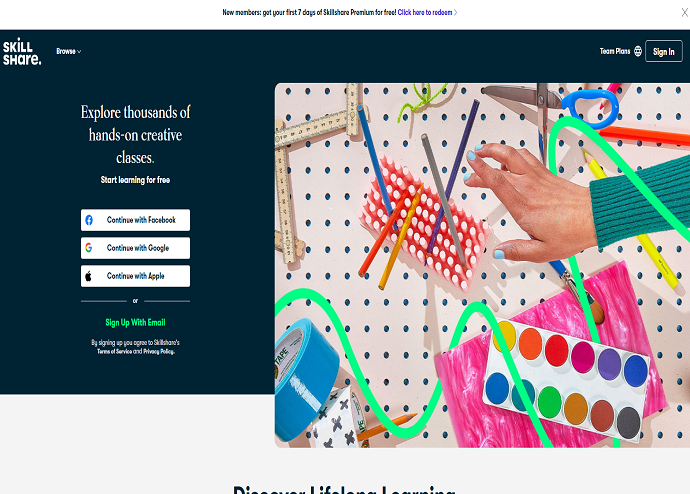 Are online creative classes the best option for you to acquire skills and expertise?
Most people think of a creative class as something you sign up for in a community college, but what is meant by that? A creative class can come in many different forms, but the definition is usually based on the tools an instructor provides and what they want to teach you. In this article, learn how online creative classes compare with their traditional counterparts!
What are online creative classes?
Image Source: Link
Creative classes have become increasingly popular as people seek opportunities to acquire skills and expertise in various creative fields. Online creative classes are a great option for those who want to learn from experts without having to leave their homes or place of work.
Online creative classes can provide students with the opportunity to learn from top-tier instructors in a variety of disciplines, including photography, graphic design, web development, and advertising. Many of these courses are delivered via online platforms, which makes them convenient for students who may be busy working or commuting.
There are several benefits to taking an online creative class. First and foremost, online courses typically offer shorter duration than traditional courses, making them easier to fit into a busy schedule. Most online courses also offer flexible scheduling options, so students can choose which modules they would like to attend. In addition, many online creative classes feature interactive modules that allow students to apply what they have learned in the classroom to real-world scenarios. Finally, online creative classes often offer a lower price point than traditional course formats.
Pros and Cons of Online Creative Classes
Image Source: Link
Online creative classes can be a great option for someone who wants to learn new skills and gain expertise in a specific area. However, some important things to consider before signing up for an online class.
First, consider your time commitment. Most online creative classes require around 10-12 hours per week, which may not be feasible if you have other commitments. Also, make sure you are comfortable with technology. Many online courses require you to use software like Adobe Photoshop or Illustrator, which may be new. If you aren't comfortable using these programs, finding an online course that uses less technical software may be a better option.
Second, make sure the course is reputable. Before signing up for any online course, research and look for reviews from people who have already taken the course. Make sure the reviews are positive and that the course meets your needs. There are many great online creative courses out there, but not all of them are good quality. Be careful about choosing an online class based only on the price tag.
Finally, be realistic about what you can expect to learn in an online course.
The Future of Online Creativity Classes
Image Source: Link
Online creative classes are a great option for people who want to learn new skills and expertise. This class provides a flexible learning environment that allows students to work at their own pace. In addition, online classes are affordable, and they can be completed in a short amount of time. Additionally, online classes provide students with the opportunity to learn from experts in the field.
What to Look for in an Online Creative Class?
Image Source: Link
No matter what your creative aspirations are, there's a good chance you'll want to take an online creative class at some point. But which one is the best option for you? Here are a few things to look for in an online class:
The instructor: This is key, and it's especially important to ensure the instructor has a strong reputation in the creative community. Look for someone with years of experience teaching creatives how to work effectively in digital media.
The curriculum: Make sure the class covers the topics you want to learn and that the material is relevant to your interests.
The price: There's no one right answer here, but be sure to consider both the cost of the course and the quality of the instruction.
Conclusion
Image Source: Link
Online creative classes are becoming increasingly popular, and for a good reason. They offer a convenient way to learn new skills and gain valuable knowledge in a relaxed environment. Whether you are looking to update your current design portfolio or develop new marketing strategies, online courses provide the perfect platform for growth and learning. So, what are you waiting for? Start exploring online creative classes today!