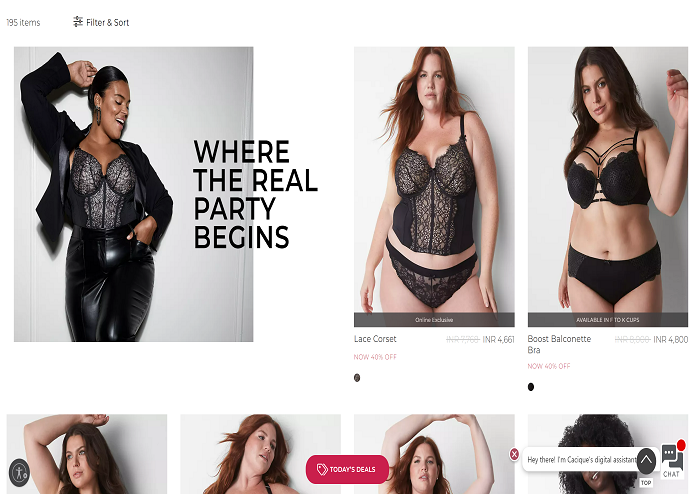 Tips to consider when buying lace corset lingerie
Lace corsets are a lingerie staple, but they can be expensive, too. Save money and choose the right type of lace corset by knowing what to look for before you buy it. Read the article below to find out more about types of laces and how to choose from them!
Types of Corset Lingerie
Image Source: Link
There are many types of corset lingerie to choose from, and the type you select will depend on your style and preferences. Here are some of the most popular options:
Underbust corsets: These corsets hug your curves without covering your breasts and can be worn with various tops and dresses.
Overbust corsets: As the name suggests, these corsets cover your breasts and waist, providing more coverage and support.
Waist cinchers: These aren't technically corsets, but they're often used in conjunction with them. Waist cinchers help to create an hourglass shape by slimming the waistline.
Corset tops: These are tops that have been designed to look like corsets, with lacing or boning at the front. They're a great option if you want the look of a corset without the commitment of wearing one all day long!
Bustiers: Bustiers are similar to corset tops, but they usually have cups or padding built to support the breasts. They're often worn as sexy lingerie and outerwear under dresses or low-cut tops.
What to Look for When Buying a Corset?
Image Source: Link
When you are considering purchasing a corset, there are a few things you will want to take into account.
The first is the size of the corset. You will want to ensure that the corset is not too small or too large. It should be just right so that it fits snugly and does not gap at the waist.
Another thing to consider is the style of the corset. Many different styles are available, so you will want to choose one that complements your figure. If you have a fuller figure, you may want to choose a style that has less boning to avoid adding bulk. If you have a smaller frame, you may want to choose a style with more boning to create the illusion of curves.
Finally, you will want to think about the material of the corset. Corsets can be made from various materials, including satin, silk, and lace. Each material has advantages and disadvantages, so you will want to choose one that best suits your needs.
Types of Lingerie Underwear
Image Source: Link
Many different types of lingerie are available on the market, from simple cotton panties to sexy lace corsets. When choosing lingerie for your special occasion, it is important to consider what type of underwear best suits your needs.
Cotton panties are the most common type of lingerie and are perfect for everyday wear. They are comfortable and breathable, making them a good choice for those who want to avoid feeling too constricted. However, they may not be the best option for a special occasion since they lack the sex appeal of other types of lingerie.
Silk panties are a step up from cotton in terms of comfort and style. They are smooth and luxurious, making them a great choice for a romantic evening. However, they can be pricey and may require special care when washing.
Lace panties are another popular option for lingerie. They are sexy and elegant, making them perfect for a special night out. Lace can also be delicate, so choosing a quality pair that will last is important.
Mesh panties are less common but can be very sexy and alluring. They offer less coverage than other types of lingerie but can still be very flattering. Mesh is also relatively easy to care for, making it a good choice for those who want low-maintenance underwear.
Putting on a Corset
Image Source: Link
When shopping for a lace corset, you should keep a few things in mind. First, consider the style of the corset. There are many different styles available, from classic to sexy to modern. Second, think about the occasion you'll be wearing the corset. Will you wear it under your clothes or as part of your lingerie? Third, choose the right size. Corsets come in various sizes, so measure yourself before buying one. Finally, don't forget about the accessories! Corsets can be accessorized with garters, stockings, and other lingerie items to create a complete look.